We are saddened to announce the active duty death of Sealy Fire Chief and Houston Firefighter Eric Zapalac. He is survived by his loving wife and three children. Please keep all affected by this loss in your thoughts and prayers. Our hearts are heavy as care for loved ones and our brothers and sisters in emergency service tonight. Heaven gained a noble servant to all November 20, 2017. His tireless efforts to protect will never be forgotten. Rest in peace Chief we love you and will carry on in your will.
 
For a demanding, challenging and exciting experience, join our team!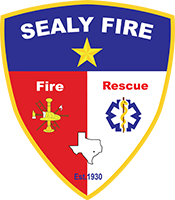 Give back to others in their time of need.
Volunteer today!
---
Total Calls for previous years:
| | | |
| --- | --- | --- |
| 2014: 524 | 2013: 526 | 2012: 431 |
| 2011: 639 | 2010: 514 | 2009: 282 |
| 2008: 323 | 2007: 284 | 2006: 366 |
| 2005: 325 | | |
| | | |