The article below was written in the 1960's.  It was rediscovered in a book at Immaculate Conception Catholic Church.
HISTORY of SEALY FYR FYTERS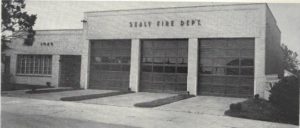 ​
    The Sealy Volunteer Fire Department was organized in 1930, through the combined efforts of the Chamber of Commerce, the Lions Club and the American Legion.
    By means of public donations, enough funds were raised to buy two forty gallon (with fifty foot hose for each), four two and one-half gallon and one one-gallon chemical extinguishers. This equipment was purchased from the Fyr-Fyter Company, who offered to give an additional one hundred feet of hose if the department would use the name of Fyr-Fyters. This was done, and on August 29, 1930, a charter was granted by the State of Texas to the Sealy Volunteer Fyr-Fyters, with the following directors: Paul Hacbarth, H. S. Gill, W. F. Meyer, E. E. Kastrop, J. W. Ripple, R. R. Sloan, H. H. Nowak.
    A fire station of corrugated iron was built on the property of Herman Meloneck, Sr. Through efforts of its members a trailer was built, which carried one of the forty gallon and all of the smaller extinguishers, together with ladder and supplies. The first car or truck arriving at fire station after the alarm was to hitch to the trailer and proceed to the fire. Except for a time or two that the trailer became unhitched and spilled the firemen riding it, it usually got there about as fast as could be expected. This was the entire equipment, when in August, 1935, the department decided to try and raise enough funds with which to purchase a truck.
    After considerable time and efforts $1400 were raised by public subscription, $500 was on hand from various functions given by the department, making a total of $1900 available; but the cost of the truck wanted was $2200. However, it was ordered, and when delivered in March, 1936, $200 was needed which was borrowed from the bank and soon repaid. Since that time additional equipment has been added to it so that now it is an investment of about $2500.
    With funds raised through the annual Frolic and other entertainments a second truck was bought. In 1944 the Liedertafel Hall was purchased and with money loaned to the Department by Sealy citizens, the hall was repaired and additions made. Improvements have been made through the years. In 1949 a third truck was purchased and a new $26,000 fire station was built. Again the citizens of Sealy loaned money to the department, all of which has since been repaid. The department is self-sustaining, receives no money from the city, and has assets of $60,000.
    The present officers are H. H. Nowak, chief, J. W. Fewell, first assistant chief, H. F. Hradil, second assistant chief and Edgar Luedecke, secretary and treasurer.